Feb 26, 2012
TuffRail® is proud to sponsor Kyle Cultrera Racing in the 2012 NHRA Full Throttle season.
TuffRail™ proudly backs Kyle Cultrera Racing in their bid for a championship in 2012. More information on Kyle Cultrera is available
here
.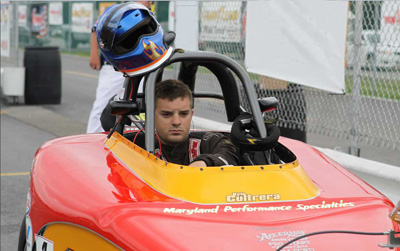 KYLE CULTRERA RACING TEAM ANNOUNCEMENT
Cultrera and TuffRail™ announce 2012 partnership
ELIOT, Me. (Feb. 24, 2012) – Multi-category Lucas Oil Series competitor Kyle Cultrera and innovative cargo management system manufacturer TuffRail™ have announced a partnership for the 2012 season of NHRA drag racing that will enable a full schedule of competition for Cultrera and increased visibility for TuffRail™ as the team utilizes and offers demonstration of the state-of-the-art product at each event.
"We're excited to be able to partner with Kyle," said TuffRail's Scott Moberg. "It will be great to work with a sportsman competitor who is passionate about our product as well as racing. He knows how the TuffRail™ system works, and he knows the quality of the product because he has it installed in his own trailer.
"Kyle has been doing very well in drag racing, and when he came to us and said that our product was one that he could definitely stand behind because he believed in it, we realized that this would give us a great opportunity to reach out to other racers at that same level of competition who can actually use the TuffRail™ system.
"It's going to be an exciting year, and we at TuffRail™ are looking forward to standing behind Kyle as he goes after those championships."
The TuffRail™ system was introduced in 2010 at the PRI show in Orlando, Fla., as a product that would stand out as the best of the best in terms of cargo management. As racers themselves, the TuffRail™ family – including Moberg and his father, Cliff Moberg – understood the importance of safely stabilizing high-value items like racecars, motorcycles and ATVs for transport, and they developed a versatile product that has already proven effective.
"It's just so awesome that TuffRail™ came on board to help us out," said Cultrera, who will challenge for divisional and national titles in both Competition Eliminator and Super Comp this year. "The TuffRail™ product is very relatable to sportsman racers, and as Scott said, we actually use it ourselves. I'm excited to get their name out there.
"TuffRail™ is still a fairly new company, and we are only beginning our second year in the Comp Eliminator car owned by Al Ackerman and Dave Ring, so we are really in a situation where we can help each other progress to the next level. They have a great product, and we are confident that as a team we can really demonstrate the value of it."
About TuffRail™:
TuffRail™ is a durable, versatile, and reliable commercial grade cargo management system made proudly in the USA. It utilizes patented designs, premium stainless steel components, high grade billet aluminum extrusions and superior craftsmanship. The TuffRail™ system can be used to turn a one-purpose trailer into a multi-purpose trailer, and it can add flexibility to any truck bed as each rail consists of multi-position locking points where the TuffPin can anchor your tie-down load. For more information, visit
www.tuffrail.com
.
About Kyle Cultrera:
Eliot, Maine-raised Cultrera, 21, currently resides in Charlotte, N.C., while working towards a degree in Mechanical Engineering at UNC Charlotte. Cultrera's first start was in Super Comp at the 2008 Division 2 event in Bradenton, Fla., and his first career victory was that same season at a points meet in Gainesville, Fla.
Last season, he embarked on a new journey driving the '32 Comp Eliminator H/EA Bantam owned by Ackerman and Ring and quickly proved his mettle as he earned his first win in the very competitive category just a few months later. Cultrera continues to pilot his own Undercover Super Comp dragster and has two NHRA Full Throttle Series national event victories (Super Comp at the 2010 Summit Racing Nationals in Norwalk and the 4-Wide Nationals in Charlotte in 2011).
In 2011 Cultrera recorded dual top 10 finishes in NHRA's Northeast Division, placing third in Comp Eliminator and 10th in Super Comp, and he earned six total victories in seven final rounds spanning NHRA competition and bracket racing events. For more information, visit
http://kylecultreraracing.com
.
---